BISON 701 Russian SVD Dragunov Bolt Action Airsoft Sniper Rifle
Rating:
( 3 product reviews )
Shipping:
Calculated at checkout
Sorry but this item is currently unavailable.
Please check back at a later stage.
---
Product Description
BISON Russian SVD Bolt Action Sniper Rifle is a great sniper rifle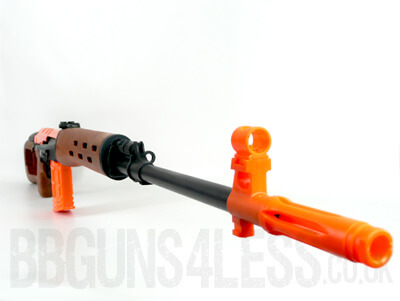 System: Spring, Air cocking

Hop-Up: Adjustable

Package Included: Gun, Magazine, BB loader ,Goggle,Sling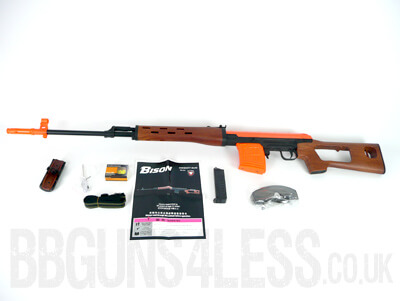 ABS Magazine & Gun Body.

Magazine Inside Metal .


Fit To Use 0.12g 6mm BB For Shooting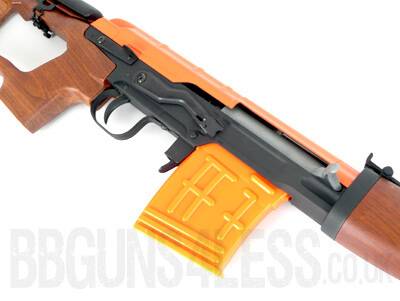 Has also has a leather attachable chin rest
Magazine Capacity : Approx.150rds (say the makers - but bbguns4less users report only 30 rounds we have uet to test it
)
Power : 447fps (0.12g 6mm BB) / 360fps (0.2g BB)
please note we only have the new version of this gun now that has more orange on it to comply with ukara rules.
So if you buy this gun it will be it will not be as in the photos here (new version photos coming soon)
---
Find Similar Products by Category
---
Product Reviews
AMAZING

Posted by Jordon B on 30th Jun 2013

This sniper rifle is a real good buy and I recommened people to get it if they want the following: »Accuracy »Good Range

---

Buy this gun

Posted by Unknown on 23rd Jun 2013

It is amazing and and I can bash it around and do all kinds of things but it still won't brake and its a good shot too so if u want a good rifle then is is 4 u

---

Decent

Posted by John B on 31st Jan 2013

Very impressed with power and size of this thing, had it awhile now still works perfect. Range is excellent. When I put it together stock fit perfectly very solid however the front grip is slightly wobbly but not a big problem at all, also the cheek rest for the stock was very weak and broke almost as soon as i put it on which is why i give it 4 stars. All in all works great and a great buy.

---
---
Customers Who Viewed This Product Also Viewed
In the uk lots of people call airsoft guns bb guns. In the usa a bb gun is a gun that fires a metal pellet (in the uk known as a air rifle) we do not sell this type of gun. but in the uk if you're hear someone say bb gun they are probably are referring to what is know worldwide as airsoft gun. (like we sell) the only guns we sell on this site are all legal two tone colored airsoft guns that you do not need a licence to buy.